Stryker Physio CR2
Stryker Physio CR2
This complete and connected AED response system is expertly designed for user confidence. The CR2 is easy to use and the only AED that allows CPR compressions during heart rhythm analysis. And LIFELINKcentral™ AED Program Manager monitors each AED every single day, sending alerts via cellular network or Wi-Fi® about anything that may affect a unit's readiness—all automatically.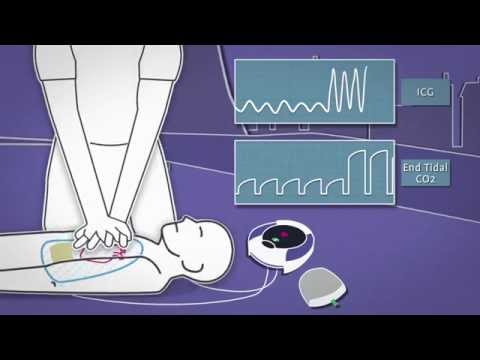 Product Description
A new approach to public access defibrillation
The ground breaking LIFEPAK CR2 Defibrillator with LIFELINKcentral AED Program Manager is at the heart of a complete AED response system. Everything and everyone involved are connected, reducing unnecessary delays when a SCA occurs.
Self-monitoring means you're emergency ready
The LIFELINKcentral AED Program Manager monitors each CR2 connected to a cellular network or Wi-Fi® and alerts you to anything that may affect device readiness— all automatically.
Battery not charged? AED not where it's supposed to be? You'll receive an alert through the LIFELINKcentral program manager, helping to greatly reduce the effort and expense of managing your AED program, while increasing your program's readiness and effectiveness.
Wi-Fi connectivity can give emergency responders a complete picture of each SCA event. So even before they arrive, they are better prepared for the patient, knowing details of shocks given, seeing the actual patient's ECG and more.
Continuous CPR increases survival rates
While other AEDs may offer CPR feedback through the use of an accelerometer or additional tool, the CR2 provides the right amount of instruction and includes new cprINSIGHT™ analysis technology. Once CPR begins, cprINSIGHT technology automatically analyses and detects if a shock is needed. This significantly reduces pauses in chest compressions, even eliminating pauses if the rhythm is determined to be non-shockable. And more CPR means improved blood circulation and better odds of survival.
Designed for user confidence
While other AEDs may be difficult to use or require users to stop CPR during analysis, the LIFEPAK CR2 defibrillator uses simple graphics, audible instructions and automated features to help users remain focused. We've removed all the guesswork with proven better results.
The CR2 was rated easiest to use, easiest to hear and highest in overall user confidence by AED users.
Top
As we navigate through these challenging times, we have the health and well-being of our clients, staff, and the community at top of mind. 
In response to COVID-19, we will be offering online training as temporary evidence of first aid training in several of our Canadian provinces*. Paired with this, we are also offering a $20 discount on the online-only portion of our approved Blended eLearning training courses in:
Please see the following blog post for further details, conditions, and course parameters.

For our Online Training, please click the following URL.
*Not available in British Columbia, Quebec or Newfoundland
Your safety is paramount to all of us here at Rescue 7 Inc.  We hope through these initiatives, we can continue to safely encourage, support and develop the skillset you need to get you where you want to go. 
At this time, we are carefully monitoring the rapidly changing environment of COVID-19 and will continue to update you on any changes as the global crisis evolves.
Please feel free to reach out to us with any inquiries at training@rescue7.net.
With gratitude,
Rescue 7 Inc.