Stryker HeartSine® 500P
Stryker HeartSine® 500P
Stryker HeartSine has taken an innovative approach to maintenance items by incorporating the AED batteries and electrodes into one single-use cartridge called the Pad-Pak.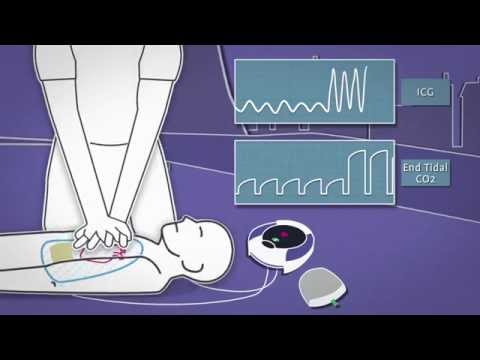 Product Description
Regardless of whether it is a layperson or a professional rescuer, ECE Guidelines place a greater emphasis on the importance of effective CPR in increasing survival rates after out-of-hospital cardiac arrest.
Stryker HeartSine AED 500P defibrillator with CPR Advisor is the most innovative device available to support these guidelines, giving rescuers feedback on the effectiveness of their CPR efforts – in real time.
How It Works: CPR stands for Cardio (heart) Pulmonary (lung) Resuscitation. It is a combination of compressing the heart to circulate blood to all the vital organs and, at the same time, breathing into the victim to supply oxygen.
The Stryker HeartSine AED 500P defibrillator provides the rescuer with real-time instructions regarding compressions with audible "Good Compressions" or "Push Harder," "Push Faster" and "Push Slower." This is also displayed on the face of the device in order to ensure the rescuer performs the most effective CPR.
An Impedance Cardiogram (ICG) is embedded in the software, which guides the user in the required force and speed of compressions for the victim. The ICG measures changes in the chest cavity, which determines effective CPR. Because the blood flow is related to how fast the compressions are applied, as well as how hard, the Stryker HeartSine AED 500P can guide the user on both force and depth.
After being instructed to "begin CPR," an audible beep for the appropriate cadence will help the rescuer keep time when performing compressions. The objective during CPR using the Stryker HeartSine AED 500P is to hear "Good Compressions" and to see green on the CPR indicator
Package Includes: one (1) Stryker HeartSine AED 500P, one (1) adult Pad-Pak, carry case, fast response kit, window decal, user's manuals, CD rom, 8 year warranty
Top
As we navigate through these challenging times, we have the health and well-being of our clients, staff, and the community at top of mind. 
Important Updates:
In response to COVID-19, we will be offering online training as temporary evidence of first aid training in several of our Canadian provinces*. Paired with this, we are also offering a $20 discount on the online-only portion of our approved Blended eLearning training courses in:
Please see the following blog post for further details, conditions, and course parameters.
For our Online Training, please click the following URL.
*Not available in British Columbia, Quebec or Newfoundland
Your safety is paramount to all of us here at Rescue 7 Inc.  We hope through these initiatives, we can continue to safely encourage, support and develop the skillset you need to get you where you want to go. 
At this time, we are carefully monitoring the rapidly changing environment of COVID-19 and will continue to update you on any changes as the global crisis evolves.
Please feel free to reach out to us with any inquiries at info@rescue7.net.
With gratitude,
Rescue 7 Inc.